More-Sport.com Glove
Precautions of use
To pull out the glove, don't pull on the fingers, push it from the wrist to the edge of your hand, it will make it last longer.
Glove's materials are not eatable. So in order to avoid an accidental indigestion don't pull out with your teeth.
When the glove is not used, we recommend you to dry and stock it in its normal form.
Between different usages, it's better to keep it in an ambient temperature. Extreme temperatures can deform materials.
In open air tournament, hide your glove from the sun.
Upkeep advices
Avoid corrosive products; it can reduce the duration of materials in time. If you want to clean your glove simply wash it with soap and water.
We advise not to wash it in a washing machine.
Often asked question
How your gloves are made ?
Contrary to what its nice finished touch can makes us thinks, our gloves are totally handmade.
Are these gloves made for our young players ?
They are absolutely adapted for young players. We can provide you small sizes adapted for 8 to 10 years hold players to help them learn UWH in the best conditions.
I would like to custom the colour and the form of the glove, is it possible ?
For this kind of request please contact us directly.
Size guide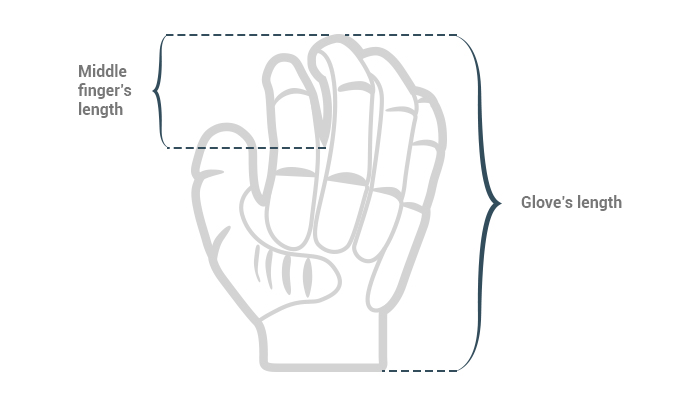 | | | | | | | | | |
| --- | --- | --- | --- | --- | --- | --- | --- | --- |
| Universal size | KID | XS | S | M | L | XL | XXL | XXXL |
| Middle finger's length in in | 2,75 | 3 | 3,1 | 3,2 | 3,3 | 3,5 | 3,5 | 3,9 |
| Glove's length in in | 7 | 7,08 | 7,8 | 8 | 8,3 | 8,4 | 8,8 | 9,8 |
Measure the length of your middle finger to find the perfect glove's size adapter to your hand.
With your hand open, the perfect size for you glove is when the size of your middle finger equals the dimensions on the board.
If the glove you received isn't convenient, you have 7 days do send it back to us and we will send you a better sized one for free.
More-Sport.com Sticks
Usage precaution
More-Sport.com sticks were exclusively designed to practice underwater hockey. We advise not to use it for non-underwater hockey purpose.
Upkeep advises
Avoid corrosive products, it may damage the duration of materials in time. If you want to wash your sticks simply clean it with soap and water.
If the sticks are marked with an opposite colour (like with mark on black stick and black mark on a white stick) caused by a friction, use an erasing method to clean you sticks.
If your sticks suffered from a violent impact (like on goals or the edge of a tile) and that it has created a splinter, use a sanding technique with thin sandpaper to come back to the original smoothness of your sticks.
Often asked questions
How these sticks are made?
The production of the "Shark II by Mac" sticks is a registered procedure. It's a handmade production who only "Mac" masters and which is the exclusivity of More-Sport.com.
Are they made for technique players?
It's all Mac's knowing, these sticks were designed to allow a very handled clean game and skills.
Are they made for physical players?
Tough and perfectly balanced for an optimal handle to keep the puck and resist to any impact in all kind of situations. They will follow you in different types of game stage where physique takes over subtlety.
Can I carve, sand, or pierce my sticks?
Our sticks are mass tainted, so everything is possible, however we recommend you not to custom it to avoid damaging them.